---
Cusco is a popular destination for studying Spanish, as it offers a unique combination of rich cultural history and beautiful scenery. It's a nice place to spend a few weeks and explore the city and the surroundings while learning Spanish. Several Spanish schools in Cusco offer a wide range of programs, from group classes to private instruction. Some of the best Spanish schools in Cusco include:
---
---
Spanish language schools in Cusco
AMAUTA Spanish School: This reputable Spanish school has provided quality Spanish instruction for over 20 years. They offer a variety of Spanish programs, including Spanish group classes, private instruction, Spanish with activities (yoga, cooking, music), and volunteer opportunities. They also offer a range of cultural activities, such as cooking classes and visits to places of interest. Their central location in the heart of San Blas includes several classrooms, a common room, two small and cozy courtyards, and a few apartments. You can do a homestay with a local family too. Good long-term discounts; also online.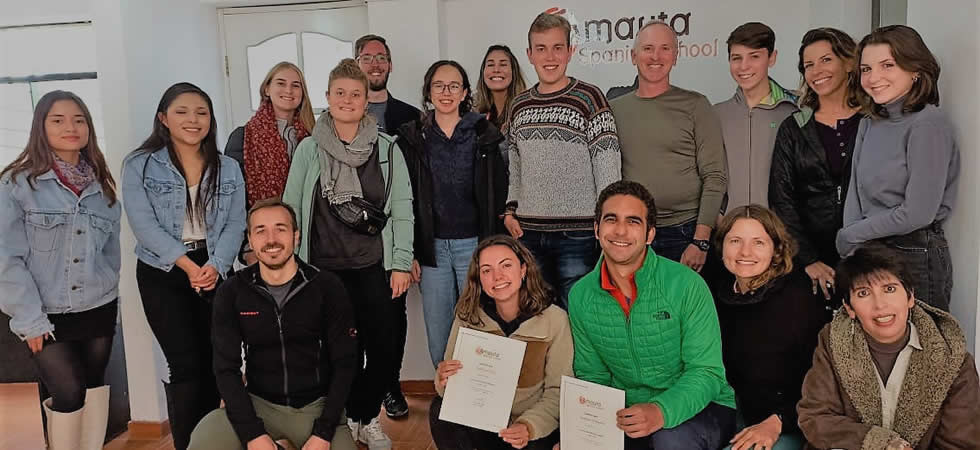 ---
---
Peruvian Spanish
When learning Spanish in Peru and interacting with locals, it's helpful to know some of the typical Peruvian words or slang.
Chévere: Cool, fantastic, awesome.
Chibolo/a: Young person (usually referring to someone in their teens or early 20s)
Choro/a: Thief.
Chola/o: An indigenous Peruvian person; used as a disrespectful word
Choche: Buddy or friend.
Pata: Buddy, friend.
Pelado/a: Broke, penniless (also: naked)
Grifo: gas station
Roche: shame, embarrassment
Al toque: right away, now
Bamba: fake
These are just a few examples of Peruvian slang. It's important to note that the use of slang can vary greatly depending on whether you are in Cusco, Lima, or elsewhere. It also depends on the social and cultural context and age group.
---
---
More Spanish Schools in Cusco
Peru Spanish: This school is known for its experienced teachers and approach to instruction. They offer a variety of programs, including group classes, private instruction, and homestay options. The school is located quite a bit further out of town in a residential area of Cusco.
Excel: This school is one of the oldest schools in Cusco. They offer a variety of languages, including English, Spanish, French, and Italian.
Maximo Nivel: also runs schools in Costa Rica and Guatemala, where they have volunteer programs. They also teach English to locals and offer TEFL programs.
Español Latino: This school offers a variety of programs and some cultural activities, too.
Proyecto Peru: This school offers Spanish lessons in groups, private instruction, and volunteer opportunities. They are located out of central Cusco.
Mundo Antiguo: since corona, the school has merged with Wiracocha School and is now operating in a small building in the street, walking up towards San Blas.
AMAUTA Spanish Sacred Valley: AMAUTA also offers a Spanish course in the Sacred Valley of the Incas. However, since the pandemic there are fewer departures dates and you will only now a week or two before, if there are enough people to run the program. The course includes accommodation and several activities in the Sacred Valley. There are teacher from AMAUTA Cusco with the small group of students in the Sacred Valley.
It's important to note that these schools are not ranked in any particular order, and it's best to research and compare the different options. Also, the level of teaching is different at all the other schools, so it might be worth asking for a trial class if you are already in town. It's also a good idea to check the online reviews from previous students. The cheapest school is probably not the best (this also goes for tours and other services in Cusco; some services reach a level below acceptable when the price is too low.)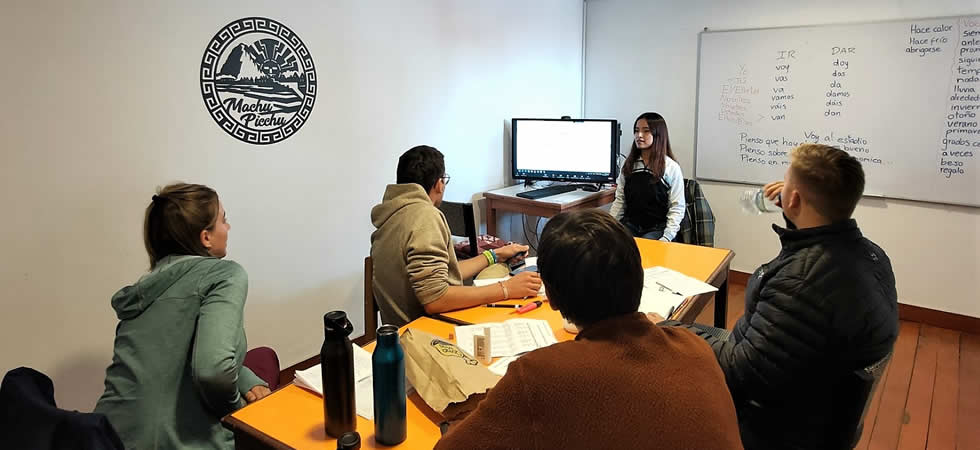 ---
---
Prices of Spanish courses in Latin America
The Prices of Spanish classes are quite a bit lower than in the surrounding countries like Colombia, Argentina, and Chile; Central America is much more expensive (except Guatemala). Peru's neighbors Ecuador en Bolivia offer similar prices.
Contact www.studyspanishlatinamerica.com for information and to compare prices.