---
---
Volunteering in Cusco
There are volunteering opportunities in Cusco and the nearby Sacred Valley. Doing volunteer work in Peru can be a rewarding and exciting experience. There are different projects where you can do volunteer work in Cusco. Sometimes you might contact a project yourself, or friends have recommended a specific place to volunteer in Peru. Otherwise, an excellent way to organize a volunteer placement is through one of the Spanish language schools in Cusco.
There are different projects in Cusco, most in the social and educational fields.
Sometimes there are environmental projects too, but most focus on social work such as health care, teaching English abroad, or building maintenance in communities. All the projects aim to support and improve education in underprivileged communities. Volunteers can help out in kindergartens, and primary and secondary schools, where you will assist the teachers in class, teach English and share your culture and customs with the kids. Help might also be needed in schools in the picturesque Sacred Valley of the Incas. If you don't speak Spanish, you can take some Spanish classes in Cusco before your volunteer work to be better prepared for the volunteering and be able to interact with the locals. Your Spanish does not have to be perfect, but it's essential you can communicate with people.
Most projects require a minimum of three or four weeks. This is understandable: it takes time for you to get used to the people, and it takes time for the people to get used to you. Primarily when you work with kids, it's not good for them to see coming and going endless numbers of volunteers.
Working as a volunteer is an experience that can cause a mixture of experiences that are important to be aware of. Sometimes the conditions in the project are far from the standards that the western world is accustomed to. Specific projects may be missing fundamental necessities. At first, this can be a bit daunting and difficult to adjust to. The important thing is to keep an open mind and be creative! Some volunteers experience a bit of a culture shock. When entering a foreign culture, most things that we are used to and identify as familiar (in social interaction, for example) are removed, and this can give a feeling of frustration. Being aware of this will help you when you are adjusting and will allow you to be more open-minded when volunteering. Do not be afraid to participate in different activities or in trying out local customs and traditions.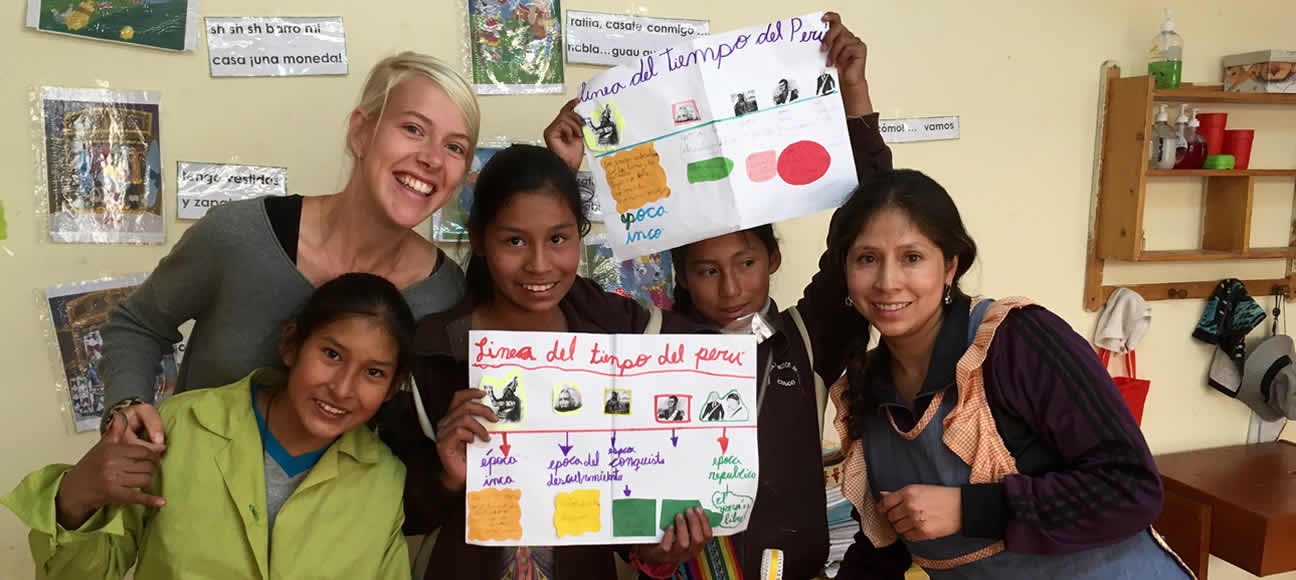 If you go into your volunteer work experience with a positive attitude, an open mind, and a plan, chances are you will have more success in accomplishing what you had intended to. You may not always be given the direction that you are used to in Western culture, so having determination and diligence will help you to succeed in the goals you have set out for.
Reasons to volunteer in Peru:
You will have the opportunity to live the Peruvian culture and be part of it.
You will experience cultural diversity and help bridge the gap between travelers and locals.
Some projects will help you organize your accommodation with a local host family (you pay for it yourself)
You meet new people and make new friends.
If a Spanish school organizes your volunteer placement, you might get a discount on the Spanish classes and have the opportunity to participate in the free activities the school offers (cooking class, dance class, etc.)
You might be able to contribute to creating better lives and futures for adults and children in Peru.
You practice your Spanish skills in real-life situations
You will grow as a person and learn about yourself, come out of your comfort zone, maybe experience a culture shock, develop new skills, and broaden your global knowledge.
If you are interested in doing volunteer work in CUSCO
Contact us