The Ultimate Guide on Semana Santa in Cusco
Wednesday March 08, 2023 | Festivals | Posted by Team About Cusco
639 views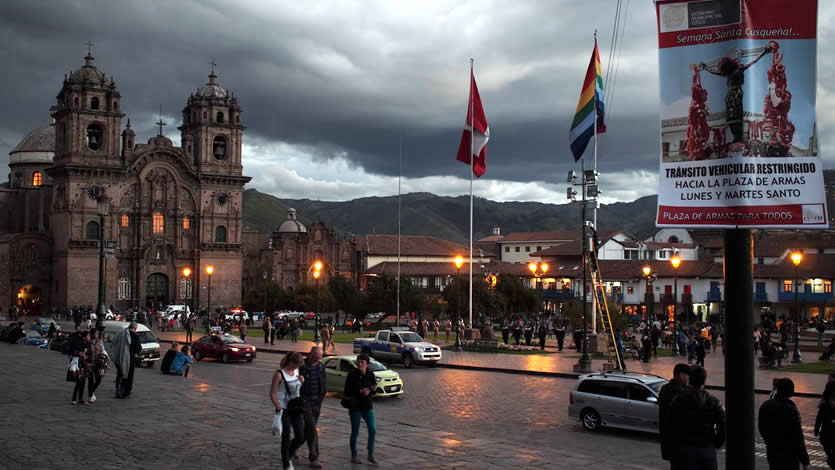 What is Semana Santa?
The Holy Week, or Semana Santa in Peru, lasts from Palm Sunday to Easter Sunday and occurs in March or April. During this week, many spiritual festivities take place, celebrating the death, burial, and resurrection of Jesus Christ. Travelers in Cusco will witness numerous spiritual processions, traditional costumes, and local culinary delicacies during this religiously significant week. In 2023, the Holy week kicks off on April 2nd (Palm Sunday). Check The Ultimate Guide on Semana Santa in Cusco to see what you can do and where to go without missing anything from this important festival in Cusco.
---
---
What is there to see for travelers during Semana Santa?
Holy Week is a significant religious festivity for the people of Peru. During the holidays of Semana Santa, many locals from all over Peru travel to Cusco or Ayacucho to witness the spiritual processions or spend time with their loved ones. Likewise, this particular week offers much to international travelers, tourists, and backpackers in Peru! Especially in Cusco, you can observe unique expressions of local culture, in which they mix their ancient Inca origins with the newer influences of Christianity.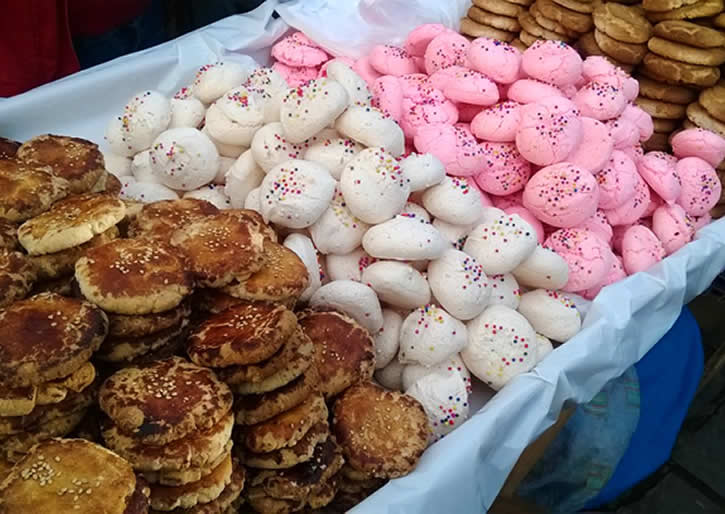 Sunday: Palm Sunday
Semana Santa in Cusco kicks off on April 2nd, 2023. This day marks the beginning of Semana Santa on Palm Sunday, or Domingo de Ramos in Spanish. Many catholic Peruvians will attend church on this day to commemorate Jesus' entry into Jerusalem, described in the Bible as being welcomed with palm branches.
In Peru, it is traditional for people to make crosses and other designs out of palm fronds, which are then blessed during church services. In addition, in many Peruvian cities and towns, including Cusco, processions are on Palm Sunday. These processions often include the blessing of palm fronds, carried by the faithful as they follow the parade through the streets.
Traditionally, when the dawn breaks over the mountains, local people and children get up early to go looking for the long and thorny cacti in the form of a cross high up the mountains. People keep them in their homes to bring blessings and good fortune as a good augury. They place the cross of thorns above their door.
In addition to the holiday's religious aspects, Palm Sunday is an occasion for families to come together and enjoy traditional foods and music. In addition, it is a time to reflect on the meaning of Holy Week and to prepare for the solemn events that will follow, such as the Last Supper, the Crucifixion, and the Resurrection.
Besides, many events in Cusco revolve around the day after Palm Sunday, known as the Lord of the Tremors, an important day for the people in Cusco.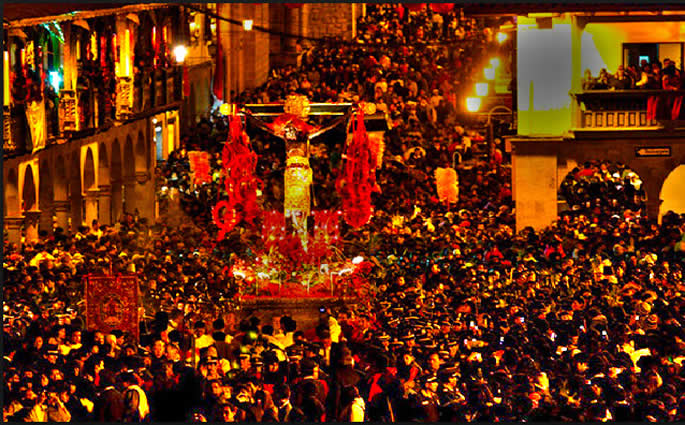 Monday (Lunes Santo): Lord of the Tremors (Señor de Los Temblores)
Also known as the Lord of the Earthquake, the Lord of the Tremors in Cusco is one of the most impressive festivities of the year in Cusco. According to the stories, this tradition traces its origin back to 1650 when a figure of Christ allegedly stopped a powerful earthquake that shook the city of Cusco. As such, the Señor de los Temblores statue is still considered a mystic character in Cusco's history. The festivities begin on Lunes Santo (Holy Monday), with the procession of the Black Christ around the Plaza de Armas to the Plaza de San Francisco and back again, stopping at other churches along the way. This parade is a unique event in South America that you should not miss during Semana Santa in Cusco!
Thursday: Maundy Thursday (Jueves Santo)
On Holy Thursday, many devout Catholics fast up until this point to empathize with the sufferings and humility of Christ. Finally, on Thursday, they break the feast in remembrance of the Last Supper of Jesus. Traditionally, the local families in Cusco prepare 12 dishes for dinner today, symbolizing the 12 disciples. Take advantage of this unique culinary experience during Semana Santa! Today is an official holiday in Peru; banks, shops, etc. might be closed, but you can do tours in Cusco, visit Machu Picchu, Sacred Valley, Rainbow Mountain, etc.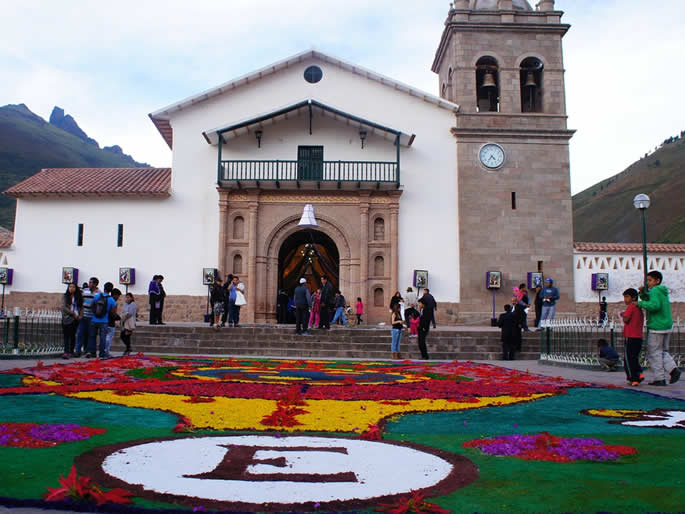 Friday: Good Friday (Viernes Santo)
Marking the day of Christ's crucifixion and burial, Holy Friday is a quiet day spent mourning the death of Christ. Many people from the countryside come from far away to the center, bringing herbs and medicinal plants that are said to receive blessings as they journey to remember the Lord. Today is an official holiday in Peru, and banks, shops, etc, will be closed. However, you can do tours in Cusco, visit Machu Picchu, Sacred Valley, Rainbow Mountain, etc.
Sunday: Easter Sunday (Pascua)
Easter Sunday is relatively quiet compared to the rest of the Holy Week in Cusco. It is generally celebrated only amongst one's close circle of friends and family. However, in Ayacucho, Easter Sunday is a big event of joyous religious rites for Christ's resurrection. Locals there celebrate with music, prayers, and fireworks, honoring the end of the Semana Santa.
What Should I Know as a Traveler during Semana Santa?
Semana Santa is a unique cultural experience for travelers in Cusco, but it can make getting around a little tricky. You can expect lots of traffic in the city during all of the processions. If you plan on traveling outside the city of Cusco (or arriving in Cusco), especially during Easter weekend, buy your plane or bus tickets in advance; many people travel to spend time with their families. You can also expect many restaurants in Cusco and shops in Cusco to be closed outside the tourist center. However, many attractions, like Machu Picchu, will still be open. The market in Cusco will also be available during the morning hours, but it will close early.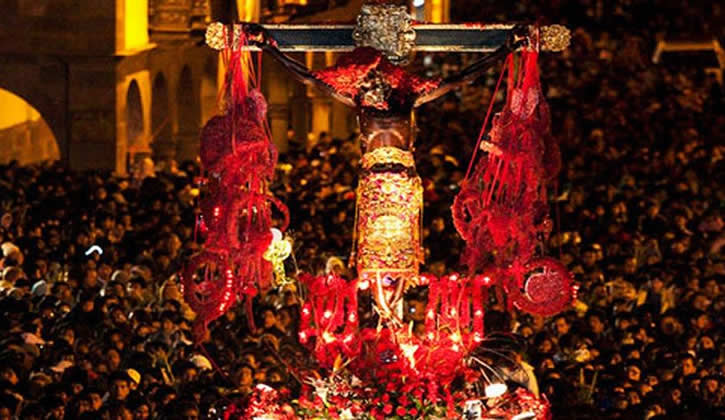 What should I not miss during Semana Santa in Cusco?
Semana Santa in Cusco is a fascinating fusion of Andean and Catholic traditions. It offers the average traveler a great way to connect with the local culture of Cusco. While the various activities are fascinating in their own right, a few traditions should be noticed!
Tips for travelers in Cusco during Semana Santa
1 – View the procession of El Señor de los Temblores!
Don't miss out on witnessing this spectacular procession, as it is entirely unique to the Cusco region. In addition, the procession offers a good glimpse into how Incan traditions are still infused with modern-day Catholicism in this region of Peru.
The procession will begin as a statute of El Señor is carried out of the cathedral in the Plaza de Armas and throughout the city's center. Following the statue is different floats decorated with ornate figurines of critical biblical figures like Jesus, Mary, and the disciples. These floats can sometimes weigh up to a few tons and carry by people dressed in robes. The whole procession is dazzling in its opulence and color. After a while, the parade will finally return to the cathedral, where El Señor returns to his resting place.
Ensure you have your camera ready for good photos during the procession! Throughout the event, there are plenty of photographable moments. However, one of the best places to take pictures will come from the Plaza de Armas. This procession usually takes place sometime in the afternoon, between 2-3 pm, but be sure to get there early to get a good viewing spot.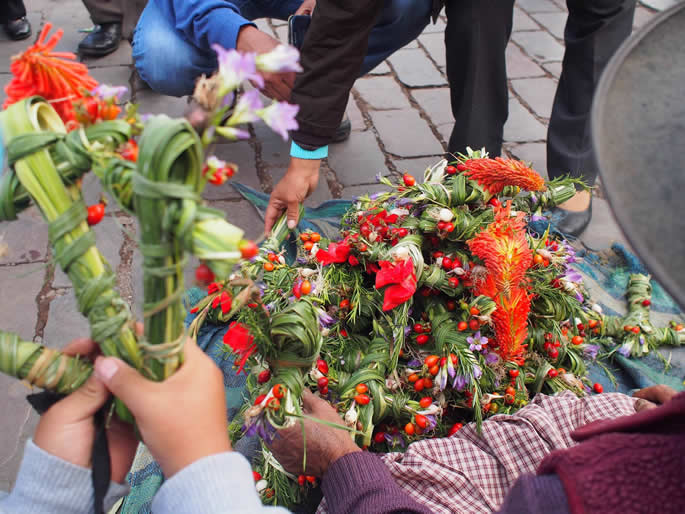 2 – Enjoy the 12 Plates of the Holy Week Feast
One of the best things about Semana Santa is the delicious Peruvian food you can eat, particularly during the traditional lunch of the 12 plates. A wide variety of food is served during this feast, generally with six salty and six sweet dishes.
The best part of this feast is the desserts. Peruvians go out regarding the desert portion of the 12 dishes or plates in the holy week in Cusco. They typically serve different puddings, stewed peaches and pears, and sweet empanadas, to name a few.
Most restaurants in the center of Cusco will be open and offer this feast as a lunch special. If you are interested in Peruvian culture and you want to spend a week in Cusco during Semana Santa, you can book a week of Spanish lessons in Cusco with or without a homestay. The Spanish teacher and the host family will tell you a lot about the local traditions, and your host mum will show you the 12 plates:
Red meat is "officially" prohibited as people fast in honor of Christ for Lent. The center of the meal is fish; therefore, buying fish at the markets is challenging during this time of the year. Instead of ocean fish, most families in Cusco prefer local trout (fried, baked, or otherwise. It is most important the fish be fresh.
3 – Visit the Local Markets on Viernes Santo
On the Friday before Easter, visit the local markets in Cusco. Today is the day that many people from the countryside come to Cusco to sell their medicinal plants. These plants have a lot of meaning for the locals because they have been blessed, especially for Semana Santa. For example, some of the vendors will sell thorns that represent the crown of thorns that Christ wore on the cross.
Overall, Semana Santa in Cusco is a rich and meaningful cultural experience that offers tourists a glimpse into Peru's history and traditions.
You might also want to read:
Comments... no comments